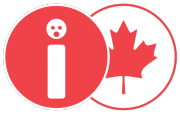 Access My Info (AMI) is a web application that helps people to create justified requests for copies of their personal information from service providers. AMI is a step-by-step wizard that results in the generation of a personalized formal letter requesting access to the information a provider stores and utilizes about a person. The letter can be saved as a PDF, printed, and mailed through the post, or where available, directly emailed to a company's privacy officer.
Check out Access My Info
To use AMI, simply click the button below, which links to the application. To file support requests, or ask questions, check out the project on Github.
Note: AMI currently supports requests to Canadian telecommunications companies, online dating apps, fitness apps, and some departments in the Government of Canada.
The problem: Information asymmetry
Most people generally have little idea how, why, and for what reasons their information is collected, processed, and disclosed to other parties by the companies they entrust with their data. As a result, citizens cannot agitate for better privacy practices, fully understand how much 'digital exhaust' is generated by us each day, or choose companies with preferable privacy practices.
How does AMI help?
Using Canadian commercial privacy legislation, PIPEDA, Canadians can learn what information companies hold about them, for how long, for what purposes, and when they disclose that information. In effect, the law empowers Canadians to understand how companies manage the personal information entrusted to them and then make informed decisions about whether they want to maintain that commercial relationship.
AMI makes it easier for Canadians to quickly file these legal requests to data operators. In doing so, we can learn exactly what personal information is stored and processed by a company, and if desired, take steps to call on the company or industry in question to improve their privacy practices.
AMI lets Canadians take control by requesting their own personal information and coming to their own conclusions about the appropriateness of digital service providers' practices.
How does AMI work?
For information about how AMI works on a technical level, please consult the post "Designing the Access My Info Tool".
How can I get involved?
You can get involved in Access My Info development by contributing to the open source project on Github. There, you can commit code, file bug reports, ask questions, or make support requests.
Credits
Access My Info was developed by Andrew Hilts and Dr. Christopher Parsons as part of the Digital Stewardship Initiative, a collaboration between Open Effect and The Citizen Lab at the University of Toronto's Munk School of Global Affairs. Graphic design by Jason Li
Access My Info ?? launched! Request your fitness/dating/web-browsing data now at https://t.co/8ynVKaKbI7 ?‍? pic.twitter.com/T6LkxXuUoS

— Jason Li (@jasonli) 21 June 2016